SUNTUF® PLUS CORRUGATED POLYCARBONATE
Condensation-control corrugated roofing for commercial greenhouses
Introduced in 1985, SUNTUF Plus was the first-ever corrugated polycarbonate engineered for commercial greenhouses. Since then, more than 9 million square meters (100 million square feet) of SUNTUF Plus have been installed throughout the world. Over the past 30 years, Palram has refined SUNTUF Plus to include grower-centric features that result in higher productivity, longer-term performance, and more predictable and consistent results over time.
Agriculture
Unbreakable with 90% light transmission
Main Benefits
Up to 90% light transmission

Built-in condensation control

Long-term performance

Impact-resistant

Ability to withstand heavy loads

Flexible installation

Easy to work with

Wide service temperature range


10-year limited warranty
Typical Applications
Commercial greenhouses

Gardening centers


Swimming pools & spa facilities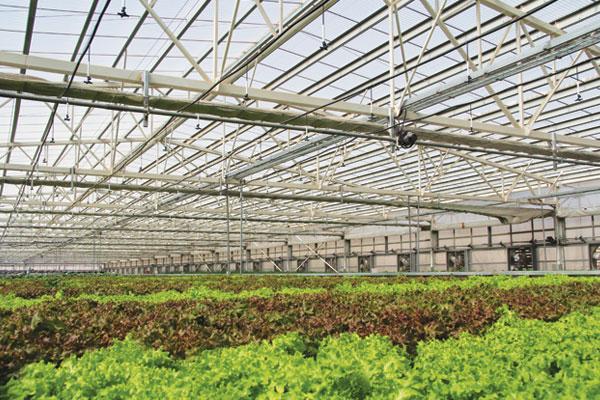 TRANSMITS MORE LIGHT INTO THE GREENHOUSE
SUNTUF Plus refracts light at low angles of incidence, reduces reflection, and facilitates more light penetration into the greenhouse than any other material.
The corrugated profile is especially efficient at N45º-N55º latitudes, where during the five critical months between November and March, the sun shines most of the day at low angles of 15º-25º to the horizon.
SUNTUF Plus offers high UV protection, which helps maintain a high level of light transmittance. In fact, it loses less than 2% light transmittance over a 20-year-period.
Controlling thermal insulation & light transmittance using different colors and tints
| | | |
| --- | --- | --- |
| U value | K value | LT% |
| 5.69-5.80 | 0.172-0.175 | 20-90 |
High Condensation Control
SUNTUF Plus offers unique condensation control. This reduces the formation of water droplets and moisture-related diseases caused by dripping.
The control of droplet accumulation also reduces light reflection, which in turn increases light transmission by 30% at peak condensation periods.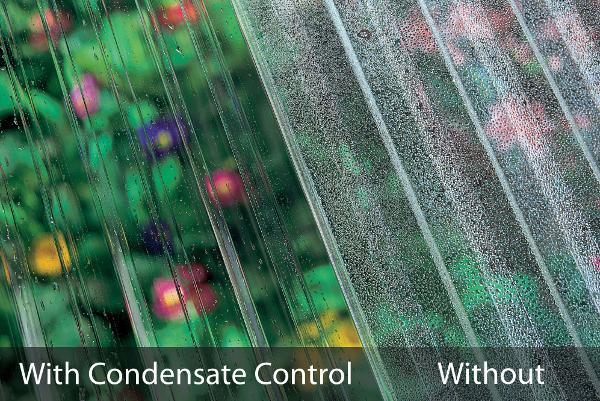 Gutter-connected/free-standing gables
SUNTUF Plus is suitable for a wide range of structures, including gable-peak, arch, and most gothic-arch style structures. It is also suitable for retrofit glass, poly-film, and fiberglass-covered structures.
Available in two widths (1260 or 1870 mm) and custom lengths, SUNTUF Plus allows for easy installation and minimizes panel overlaps. A set of innovative installation accessories and patent-pending, side-lap fastening systems ensure excellent sealing at panel overlaps. This helps reduce the infiltration of dust, insects, water, and air; and helps to improve energy efficiency.