COMMERCIAL GREENHOUSE COVERINGS
Polycarbonate greenhouse coverings and roof panels
Solid corrugated polycarbonate greenhouse coverings are equivalent to the performance of glass in terms of light transmission; provide improved thermal insulation, while offering unique advantages in terms of physical properties.
Weighing just half as much as glass, Palram polycarbonate panels reduce the amount of required structural members, while also reducing overall maintenance costs.
Palram's commercial greenhouse solutions also include panels with integrated drip and condensation controls that reduce condensation buildup and dripping, resulting in increased protection against common fungal infections, viruses, and bacteria.
Controlling condensation also reduces reflectivity, which improves light transmittance. For superior thermal insulation, Palram's polycarbonate multiwall panels are manufactured with a cellular structure that creates insulating air spaces that retain internal heat, thereby reducing overall heating costs.
FEATURES GROWERS CARE ABOUT
Polycarbonate is inherently susceptible to condensate formation, especially when used to cover enclosed environments. Palram's solutions for commercial greenhouse coverings are manufactured using a unique process that results in the industry's first and most extensive 10-year condensate control warranty.
As effective condensate control is such a critical need for greenhouse growers, the feature is now built into every SUNTUF Plus and SUNLITE Plus product.
Palram's full range of solutions enables you to better control thermal insulation, light diffusion and light transmission.
| | | | | |
| --- | --- | --- | --- | --- |
| Product | U Value | K Value | LT% | Comment |
| SUNTUF® Plus | 5.69-5.80 | 0.172-0.175 | 20-90 | Higher light transmission |
| SUNLITE® Plus | 1.45-3.50 | 0.286-0.69 | 20-80 | Better thermal insulation |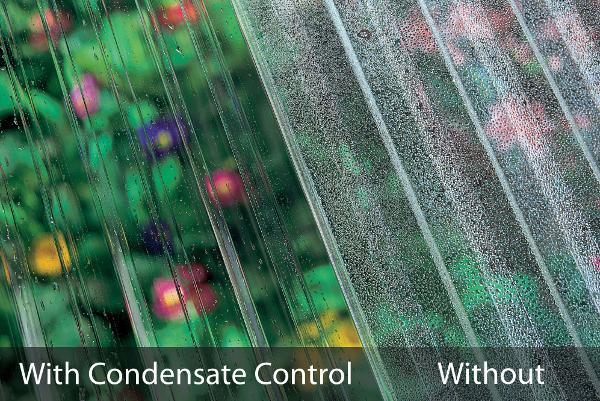 COMMERCIAL POLYCARBONATE GREENHOUSE ROOF PANELS & SIDEWALLS
Palram's solutions for commercial polycarbonate greenhouse sheets and panels offer higher yields and savings.
Palram provides polycarbonate greenhouse solutions for greenhouse growers, commercial greenhouse planners, contractors, and turn-key project providers who require high-performance greenhouse covers that last years, protecting their high-end crops and equipment investment.
These products maintain their high performance for years in any climate with minimal maintenance and no replacement required. With a complete range of installation accessories and guidelines, our high-standard commercial polycarbonate roof panels give you peace of mind, making sure your crops get the conditions they need.
HIGHER YIELD AND EFFICIENCY
Increased yield per hectare
Lower energy consumption
Simpler, less frequent maintenance
Low usage of chemical fungicides
BETTER CONTROL & OPTIMIZATION
Light transmission and light diffusion
A variety of thermal insulation and light transmission options
Temperature control
Employee comfort
WEATHER RESISTANCE
Extreme Heat and cold
Wind, rain, hail and snow
Insects
Intense sunlight
Adaptable to any STRUCTURE
Gothic Arch and Quonset Arch
Saw Tooth
A Frame, Wide Span and Even Span
Retrofitted Glasshouses and Film Greenhouses
CANNABIS GREENHOUSES
What do growers want?
During daylight cycles, Cannabis greenhouse growers strive for the optimized light transmission and light diffusion.
Opaque walls are desirable for light deprivation cycles and are commonly used for greenhouse sides and end walls.
Collaborating with the world's largest growers and greenhouse builders, Palram has developed and now provide a package of solutions that wraps the entire growing facility and provides a safe, protected and controlled growing environment.